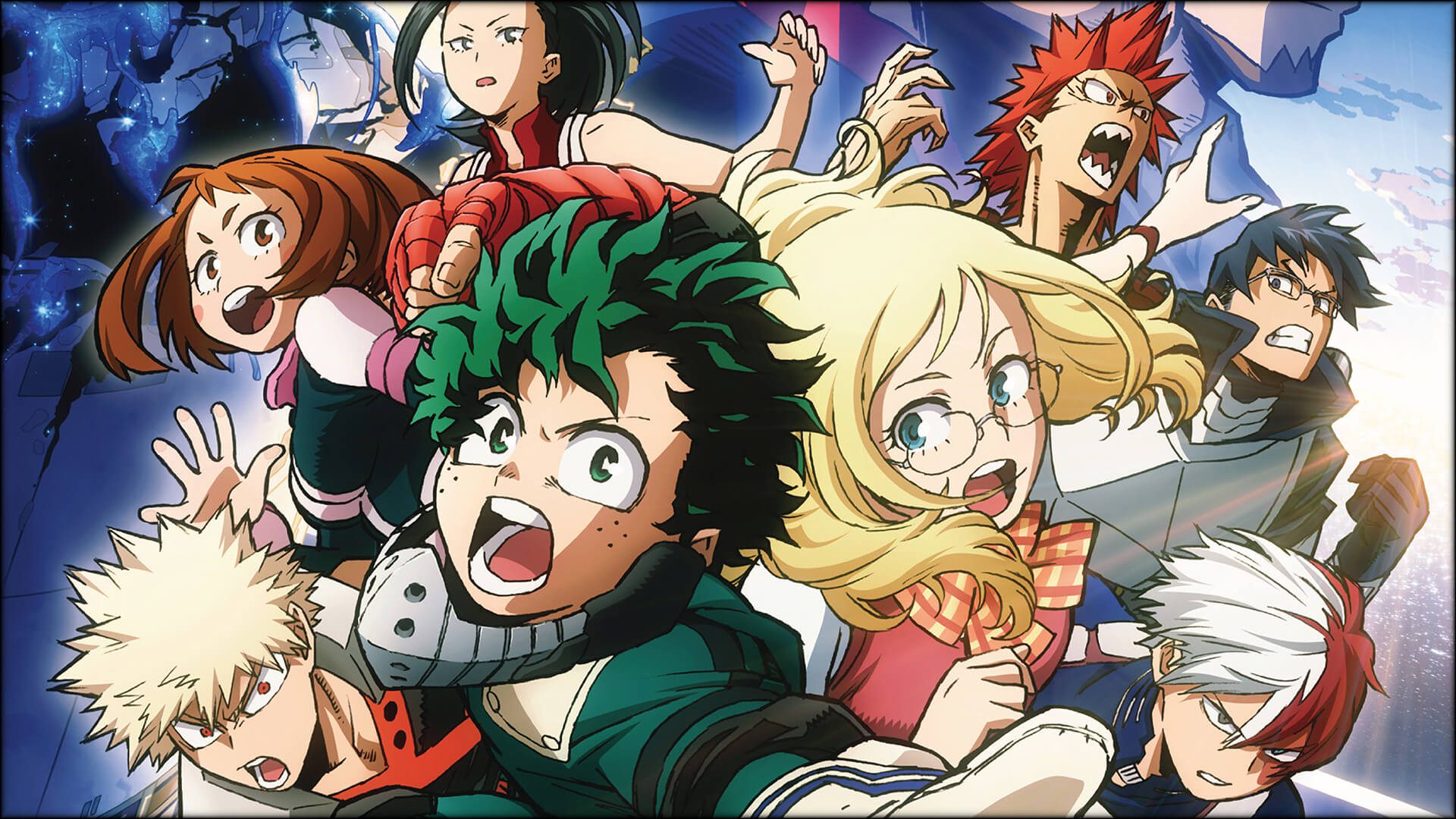 ALL MIGHT IS HERE! – My Hero Academia: The Two Heroes Review
6490 Views
The road to the My Hero Academia movie was a long one. When the movie was announced, it seemed like the only thing I could do was think up plot lines, all of the different cool things they could do, and all of the great spotlight that certain characters could get in a major motion picture! Ironically, this movie announcement came a day after I'd been complaining about how much I wish anime still got movies as often as I remember. After all, when I was growing up, it felt like Naruto had a movie every year, and Bleach would come in and sprinkle in some diamond dust to keep me searching online for anime movies year round, but lately it feels like we've only seen films for really big anime like Dragon Ball and some other great original titles.
My Hero Academia getting a movie is a major achievement! It means that the anime and franchise as a whole is profitable enough and popular enough for the companies that make these things happen.. To make it happen. Immediately I wanted to see what Mirio and the other Season 4 characters would be up to &, I geeked out about how we'd get to see Deku go all out, but then it was announced that the movie would be taking place right after the end of Season 2… and there came a moment of disappointment.. And then a surge of extreme hype.
You see, when certain characters are involved, the timeline of where an event or movie occurs in My Hero Academia, is very important. The timeline can rule out a certain character's involvements in any given scenario just because it's all happening in between Season 1 and 2, or 3 and 4. Once we were told this movie would be taking place at the end of Season 2, my first thought was "That means ALL MIGHT STILL HAS HIS POWERS" as I screamed. After a while, we also got the news that a portion of the movie would be dedicated to giving us a look at what All Might was like in his Prime, before he was ever injured by All for One, leading to his significant weakening.
Well, that sent me right off of a roof, because that meant that this movie, for all intents and purposes, was now an All Might movie. Everywhere I went I saw people talking about the movie, and all they could talk about was Prime All Might, and how cool he'd be, but My Hero Academia has an incredible way of finding balance in things all throughout the plot, so I had a feeling that we'd be able to see what our current All Might could do, in his last shining moment before he had to come back to Japan to take on All for One during Season 3, and this movie did not disappoint. Well, it did, in some ways, but not in most ways.
First off, the movie begins and there's no fat to chew through, we're getting exactly what the audience wanted right off the bat. We see a young All Might in a really cool jacket that I must have now, fighting crime in America. He pretty much flies through the sky with his high powered jumps that seem to have no end, and he can manipulate his place in the air by throwing high powered punches or really just flexing his muscles in one direction or another. Right off the bat this is a very different All Might from the one we've seen. This All Might is dripping in confidence, he's definitely the hero that we know and love, but there's something cocky about him. There's that young adult fire in him that has somewhat faded away by the time our story actually begins.
After seeing All Might take on these villains, we cut back to the present day where All Might and Deku are arriving at I-Expo, which is an expo dedicated to showing off Support Items and tech that can help heroes do their jobs even better. It's basically the anime equivalent of the Stark Expo that we've come to know and love in the Iron-Man films, but the man at the head of it is David Shield, All Might's friend from America. David actually creates All Might's costumes and support items, and he served as somewhat of a sidekick it seems. It's clear that David cares about All Might, and is worried about his worsening condition, however it isn't clear if there's anything that he can do about it. We see David looking at a photo of young All Might, soaring through the air with a smile on his face and the sun to his back, and that sums up David's character to a large degree.
He's a good man, but he's stuck in the past for all of the right reasons. For fans of the friendship between David and All Might, there are plenty of scenes in the film that empower and show different sides of this friendship, so look out for those! On the island besides David and All Might, are David's daughter, Melissa Shield and a big group of Deku's fellow classmates along with Deku himself! Melissa is a quirkless 17 year old girl who plans on creating amazing support items just like her father does in the future. She actually bonds with Deku quite a bit in the movie, and upon seeing his scars, she gives Deku that shiny red gauntlet that you've seen in the trailers.
The "Full Gauntlet", allows Deku to use 100% of his power in his punches with that arm. The movie gets sort of confusing at certain points because there are occasions where it feels like Deku is just using 100% throughout his entire body, but it's likely that those moments are just an excuse for the animators to go wild! Before we get to the stellar animation, I want to talk about some of the other positives and negatives from the film!
First off, the use of the other Class 1-A characters was fairly well done. We see Bakugo and Kirishima have some cool moments in the training arena, and then again later in a fight with some villains, and their friendship is definitely on full display. This is likely fan service for the fans that see the two as more than friends, but the main gist here is that the movie does a good job when pairing students together for cool combat showcases. There's a segment where Todoroki, Kirishima and Bakugo have to fight two quirk users together, and the teamwork between Todoroki and Bakugo specifically had me cheering and getting all hyped up! The fluid animation between the two as they each took on their respective villains, and the teamwork that they showed is really great, especially coming from two characters that don't really get along!
There are standout moments for other characters as well! Mineta gets a really fun scene where he has to scale a building to help the team progress, Kaminari gets to let loose with his lightning, and Ochako and Momo both have their own moments to pull through for the students in big ways. Ultimately, one of the best pairings was the one between Deku and Melissa! Melissa was born without a quirk, and found herself in a fairly similar situation to the one that Deku found himself in before All Might gave him One for All. Unable to share the details of that secret, Deku has to talk to Melissa as if he's always had a quirk. Melissa shines through as a great character, because she didn't let not having a quirk break her down! She rises up and finds a new purpose in life, and has dreams and goals that she wants to fulfill, and that resonates with Deku in a few of the great scenes that these two have together.
The villains of the film are fairly sub-par besides our big bad, Wolfram. His henchmen actually have pretty cool quirks and seeing them fight was nice, but none of them are that memorable and they get overshadowed and become fairly forgettable when Wolfram appears on screen and joins the fight. Wolfram is pretty much Anime Magneto. The catch is, that he manipulates metal, not magnetism. This allows Wolfram to create and manipulate pillars of metal to attack his enemies. He puts his hand on the floor Full Metal Alchemist style, and just like you'd imagine, large waves of metal twist and lash towards our heroes like the tentacles of some metallic beast.
In the final act of the movie, Wolfram takes it up a notch, and he even introduces a twist that links the events of the movie, to the events of My Hero Academia Season 3! It was a pretty welcome twist, but overall it did nothing to affect the here and now of what was going on. In the final climactic scene, we're blessed with something that we may never get to see again. All Might steps up to take the villain down, and so does Deku. The scene that follows probably has the best animation that has ever been scene in My Hero Academia, and serves as the ultimate fan service for anyone that is a fan of the student teacher relationship between All Might and Deku. We see Deku keep up with, and ultimately match All Might's movements as the two push on to put a stop to the main character with one final smash!
This moment, makes up for some of the weaknesses of the film in my opinion, but those weaknesses should still be addressed. This movie feels like it could have been 30 minutes shorter, because there's a good portion in the middle where the action is lacking, and you start to get bored of what's going on. It feels like some of the middle section isn't all that necessary, and honestly a good portion of the movie just feels like an extended episode of the anime. The current season of My Hero Academia has had some standout animation, but the animation in general has taken a hit due to the production of the film, so fans expected the film to look amazing throughout. What we get though, is great animation splashed throughout the film, with a base that looks close to what you can recall from a normal episode of the anime.
My Hero Academia: The Two Heroes feels a little lengthy, and has some fairly forgettable villains, but when the movie is moving, it moves with all of the bells and whistles that you've come to expect from the series. There are moments for fan favorite characters and pairings to shine, there are laughs to be shared, and there are moments where the OST just grabs you and keeps you in a state of amazement. I've seen the film twice now, and I'll be heading out to my local theater to catch it again, even knowing that I'm only really going for that last scene! If you're a My Hero Academia fan, you owe it to yourself to check this movie out as soon as possible!
Overall, I'd give this movie an 8.5. The spectacular parts are rather spectacular, but the boring parts are also rather boring, and those parts outlast the parts that kept me entertained. As much as it feels like the ending saves it, that would be a major task any ending in any movie! Go check out the movie and let us know if you agree!
Overall, I'd give this movie an 8.5. The spectacular parts are rather spectacular, but the boring parts are also rather boring, and those parts outlast the parts that kept me entertained. As much as it feels like the ending saves it, that would be a major task any ending in any movie! Go check out the movie and let us know if you agree!
Animation is great in the main fights
Final Scene is outstanding
Tons of cool character interaction

The majority of the villains are bland
Slow middle section
Animation quality drops in some scenes

Game: My Hero Academia: The Two Heroes
Publisher: Funimation
Developer:
Release Date: 09/25/2018