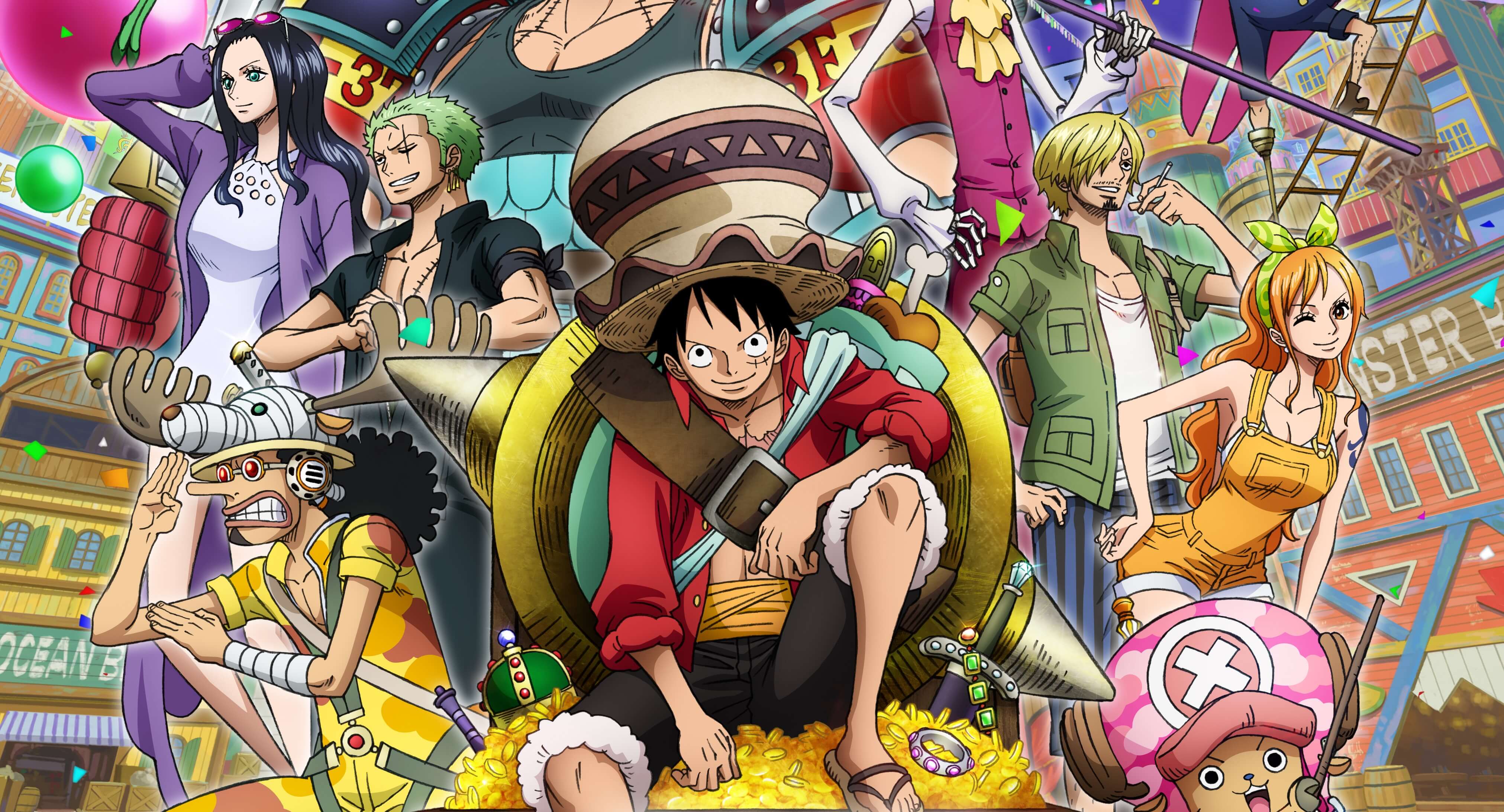 One Piece Stampede: A Spoiler-Free Review
7048 Views
Thanks to Funimation, we got to see the English dub of One Piece Stampede a little early. Below are our thoughts on the movie.
Plot:
To summarize it as briefly as possible, the movie revolves around the Pirate Expo organized by a pirate named Buena Festa. Pirates from all over the world—including many fan favorites—meet, battle, and hunt for a treasure that will shake the entire pirate world. The high stakes for the many characters who are involved seems to call out elements from some of the best arcs in the series such as the Enies Lobby Arc, the Impel Down Arc, and the Paramount War Arc. If you are a fan of these arcs, then you will love this movie's high stakes, large-scale battles between powerful fighters, returning fan-favorite characters, and unexpected team-ups. Stampede even dives into a bit of Gol D. Roger's past and his former crew member Douglas Bullet, who plays a huge role in the plot.
Visuals:
If you love the way that the Wano Arc looks, you'll be pleased to know that the animation has the same fluid look both in the ink-pen-like lines and in the action itself. Every battle in the film is exciting and full of energy even if some of those battles are brief. The movie makes use of some CG animation, but it does a good job of meshing well with the 2D animated scenes, rather than standing out too much.
The Uniqlo team and One Piece creator Eichiro Oda collaborated to design the costumes for the Straw Hat pirates as well and they look pretty stylish!
Voices:
This is the first time we've watched a dubbed One Piece movie and to be quite honest, also the first time we've watched One Piece dubbed since the 4Kids version. Still, we were pleasantly surprised at the voice acting in this movie and found ourselves saying, "Wow, Smoker's voice isn't bad!" or "Law actually sounds good!" Though we're normally Crunchyroll sub viewers, it's nice to know that the Funimation team also does One Piece justice.
Conclusion:
Though the movie is fun and visually stunning, we don't see as much of the other Straw Hat crew members as we do Luffy and some fan-favorite side characters. Many of their appearances seem sudden if you can't fully buy into the "all pirates were invited" premise and how they can even widely extend that invitation without the World Government knowing. Regardless, for an anime movie plot, it created and wrapped up a Paramount War-like battle involving many characters fairly well with little to question.
One Piece Stampede is non-canon, but does a great job at feeling like it is, seemingly drawing inspiration from previous canon arcs and primarily focusing on canon characters. The setting vaguely feels as if it could take place after the hypothetical defeat of Big Mom and Kaido, given that neither Emperor is present (nor is Shanks).
Regardless, as a celebration of One Piece's 20th anniversary, the movie is incredibly enjoyable and we would absolutely recommend watching it in U.S. theaters from October 24-31.
Fun Premise
Great Animation
Good Voice Acting
Feels Canon, but Isn't
Low Screen Time for Other Straw Hats



Game: N/A
Publisher: N/A
Developer: N/A
Release Date: 10/24/19